Interaction between innate and adaptive immunity in the pathogenesis of rheumatic disorders. Primary Sjögren's syndrome (SS) is a systemic autoimmune disorder characterized by the presence of circulating autoantibodies, inflammation of the lacrimal and salivary glands, and a debilitating dryness of the eyes and mouth. The long term goal of our research is to understand a critical question in SS pathogenesis: how do autoantibodies targeting intracellular proteins exert pathogenic effects in SS? At present, our efforts are focused on Ro52-reactive autoantibodies.
Almost 70% of SS patients are positive for anti-Ro52.  Ro52 is an E3 ubiquitin ligase that regulates type I IFN responses by facilitating the degradation or stabilization of different interferon regulatory factors (IRF): IRF3, IRF5, IRF7 and IRF8. In turn, type I IFNs upregulate Ro52 expression through IRF1. Despite this knowledge, the precise role of Ro52-reactive autoantibodies in SS pathogenesis is unclear. Our recently published work demonstrates for the first time that interactions between innate immunity and Ro52-generated antibody responses are directly involved in the induction of salivary gland dysfunction in mice1.  Further, we also discovered that anti-Ro52 antibodies penetrate live salivary gland cells.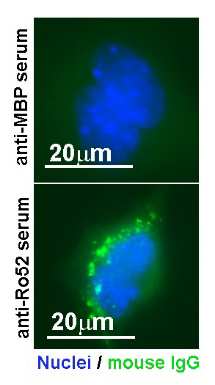 Thus, the major goals of this project are: a) to investigate how activation of innate immunity through the inflammasome and TLR3 pathways influences the expression and function of Ro52 in salivary glands b) to investigate how anti-Ro52 antibodies penetrate live cells and modulate type I IFNs and innate immunity and c) to investigate how upregulated type I IFNs influence salivary gland cell metabolism and function. This multidisciplinary project encompassing immunology, signal transduction, cellular metabolism and glandular physiology, provides an excellent opportunity to ask basic questions with important translational potential.
1) Szczerba et al, Ann. Rheum Dis 2015 doi:10.1136/annrheumdis-2014-206297